North Country Trail - September 2022

Sun 25 September 2022

My daughter Audrey and her husband Paul, who live in Duluth, had visited us back in May for Karl and Oskar's graduation party, and at that time we hatched a plan to do a backpacking trip together in northern Wisconsin around Labor Day. In August, we firmed up a 5-day 4-night trip, and selected a section of the North Country Trail near Drummond, Wisconsin.

The day before we set out on the trail, Kristin and I drove to Duluth to stay with Audrey and Paul. We worked on getting our packs ready, went out for dinner, and had a nice time hanging out. The next day we were up early and got on the road, taking two vehicles so that we were "self-shuttling". After getting coffee, and filling our cooler with refreshments for after the hike, we arrived at our first vehicle parking spot and left the van there. Then we continued to the trailhead in Audrey and Paul's car, where we began our hike.

The stretch of the NCT we hiked is very beautiful. The trail gently winds through heavily forested terrain that is punctuated every few miles with lovely little lakes. Along with cooperative weather, this hike did not disappoint.

Here we are starting out at the County D trailhead, a few miles southeast of Drummond.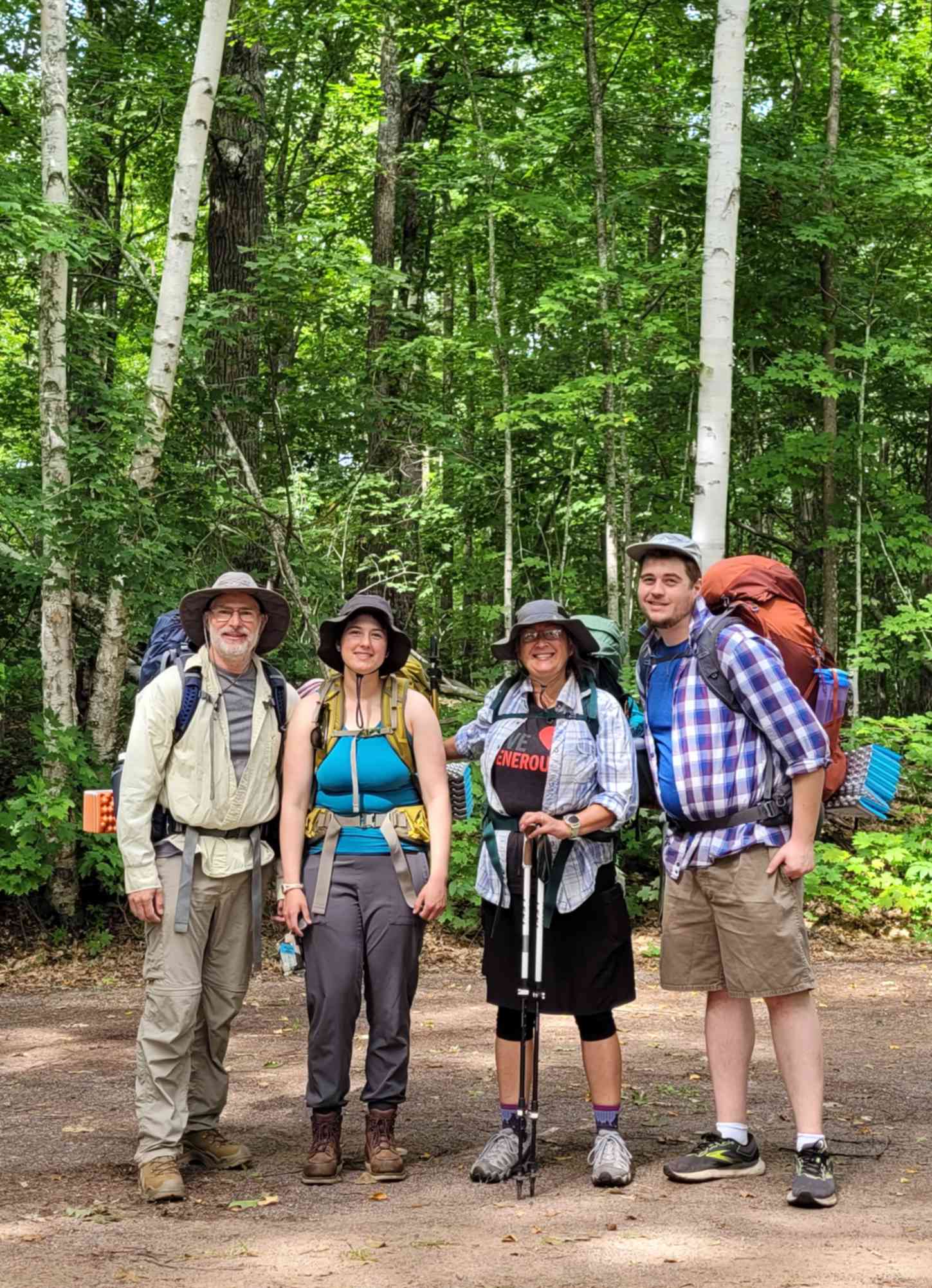 We had picked out likely campsites beforehand, this one being our first, on Porcupine Lake. It is hard to see in the picture, but the lake can be seen behind Kristin through the trees. We had started almost at noon, and our first leg was a rather short 4 miles, so we had plenty of time to relax at the campsite; this was very easy to do as it was super peaceful and pretty there!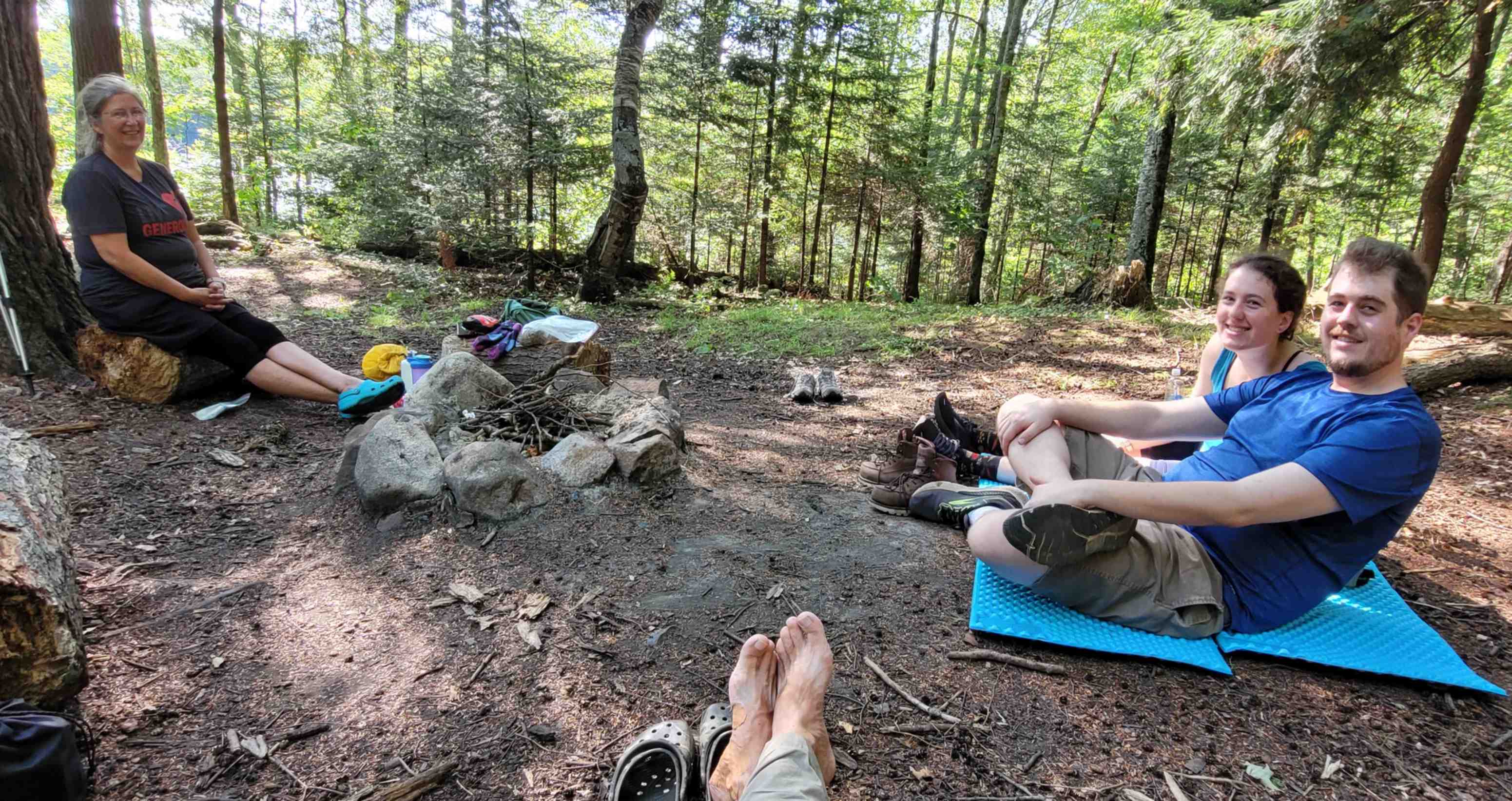 On our second evening, we camped on Lake Owen. According to the trail description, this had once been the site of a resort, although there was little evidence of it except for some large clearings and a cement boat ramp. We were concerned that we would be sharing the space with other campers, but luckily we had the place all to ourselves, so we were able to pitch our tents on the best spots, which turned out to be pretty widely spaced!

Again we had a fair amount of time to relax, so we played cards, waded in the water, and made good use of a very nice firepit that is located near the water. We were also serenaded by loons, which is always a special treat in the north woods.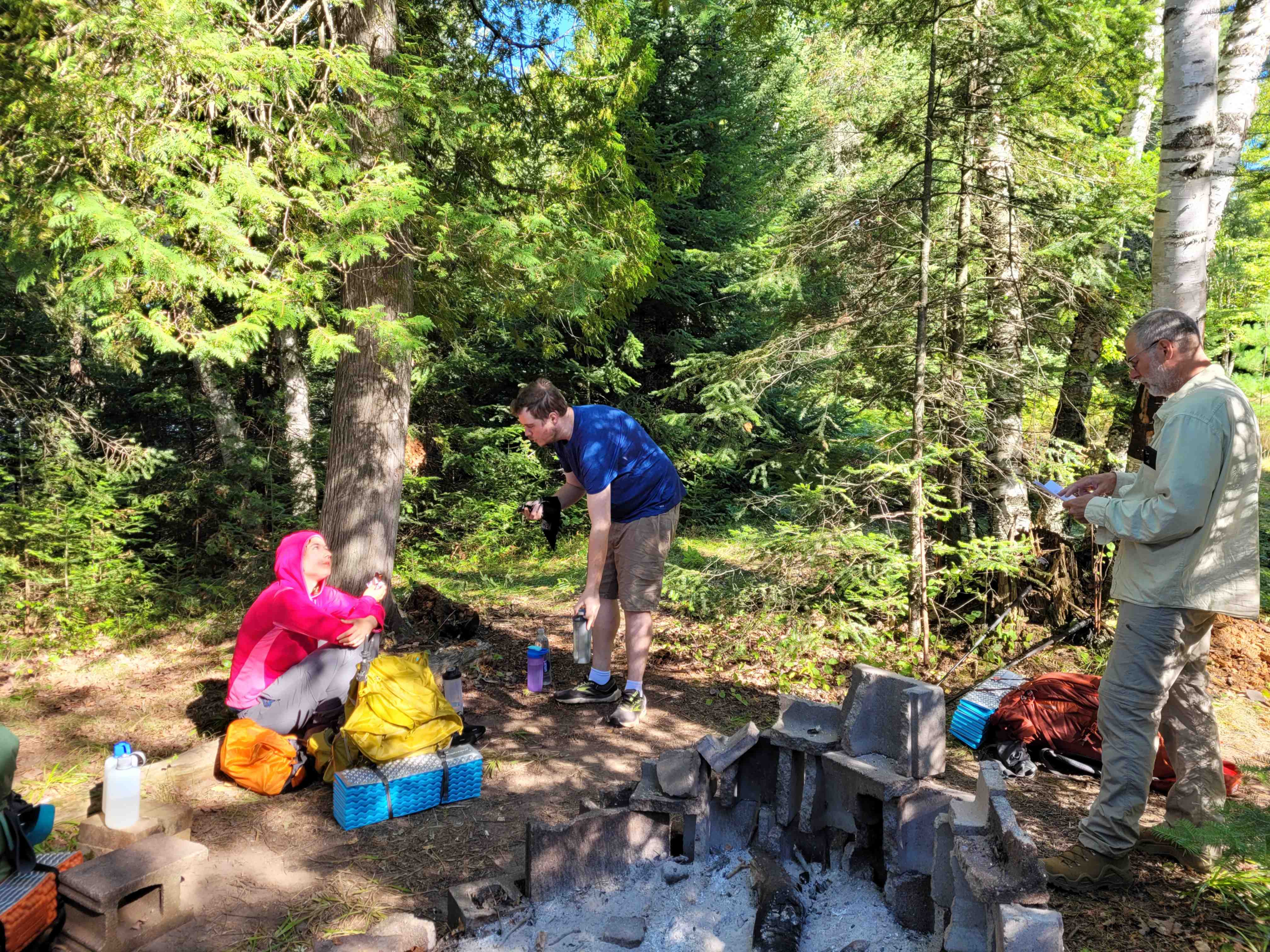 After leaving our campsite on Lake Owen, we quickly made our way north to the Lake Owen Picnic Grounds, where we stopped for breakfast. There is a nice beach here, picnic tables, a shelter, and a pit toilet, which is a well-received luxury after pooping in the woods.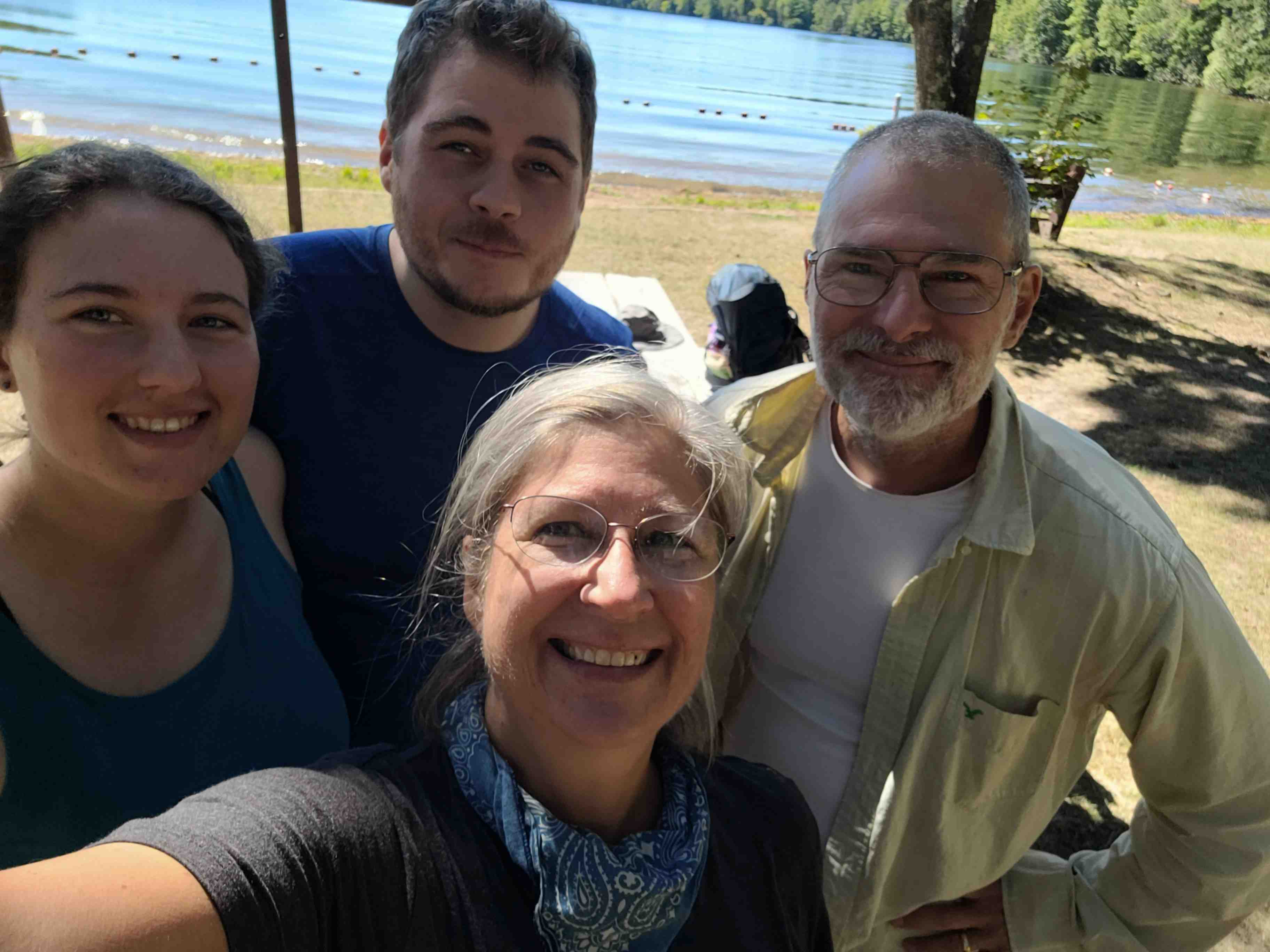 Audrey and me studying the map. Audrey is a fan of maps just like me - like father, like daughter!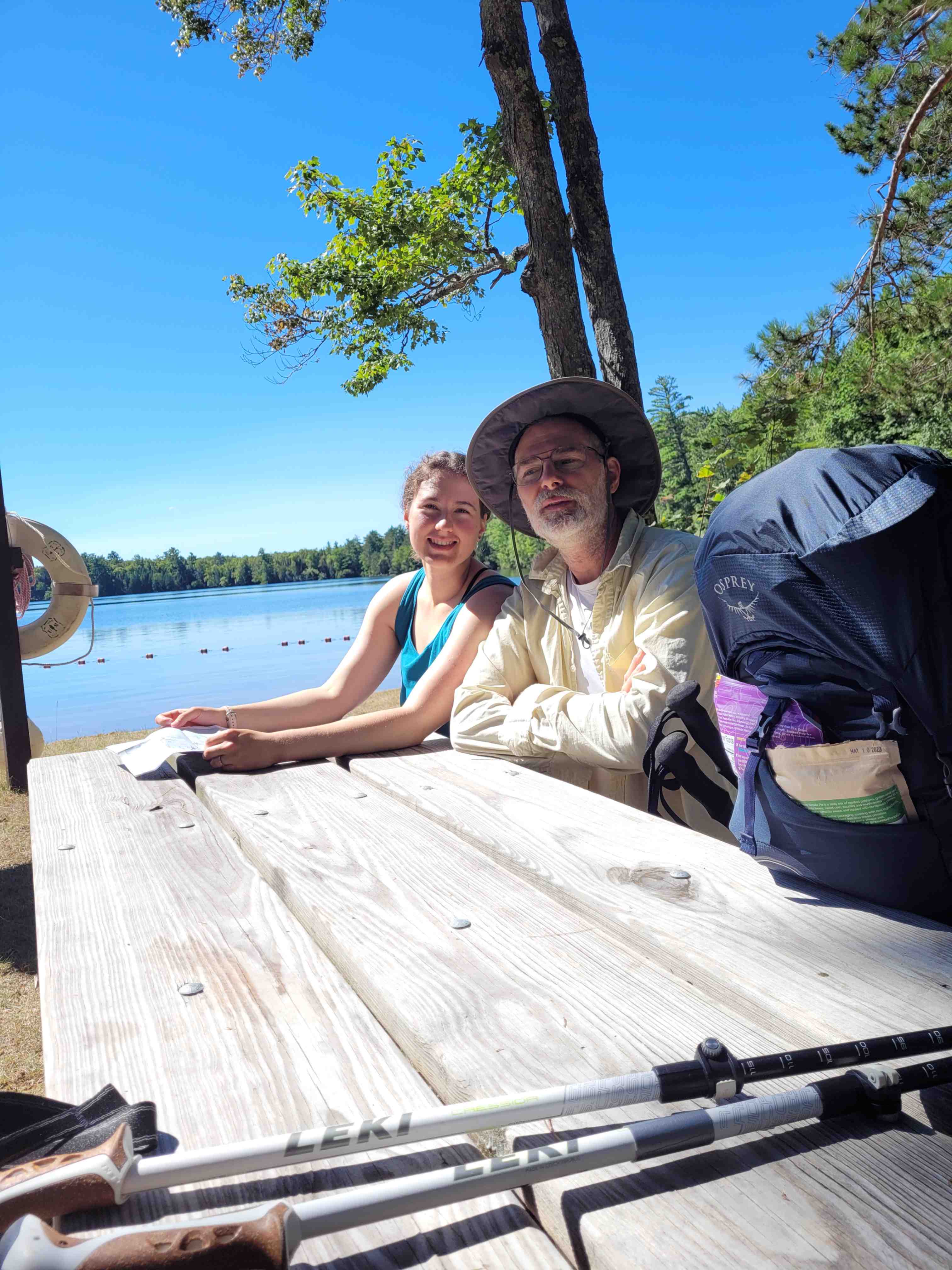 Here we are crossing Old Hwy 63 just east of Drummond. Our destination for the night was Esox Lake where we expected to find a campsite per the trail description. Along the way we passed a very cozy and already-occupied campsite in a little valley. We exchanged friendly hello's and a little bit of trail banter with the residents, and before long were having a full-on conversation about the trail, our hiking experiences, and so on; a very nice interlude with like-minded people. Eventually we continued on (alas, we did not exchange names or contact info with these folks, though we should have) in search of our campsite. About an hour later we found it, but what we found was barely adequate for one tent, much less for two.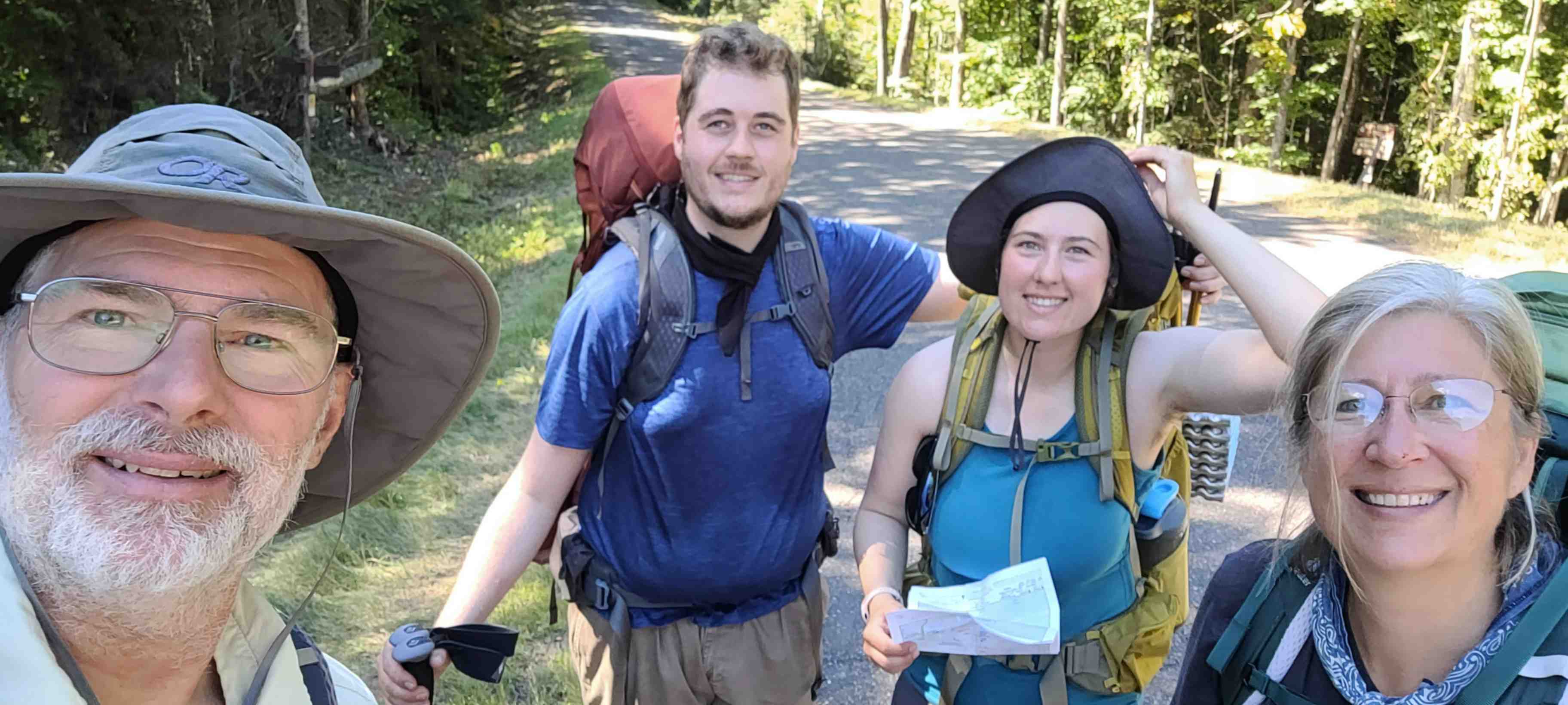 After much discussion, we decided that our best course of action would be to proceed to the van, which was just a couple miles further, after which we would find a car-camping campground for our 3rd night. We ended up at Perch Lake Campground north of Drummond, which cost a whopping $15 for one night!
Audrey and Paul at Perch Lake: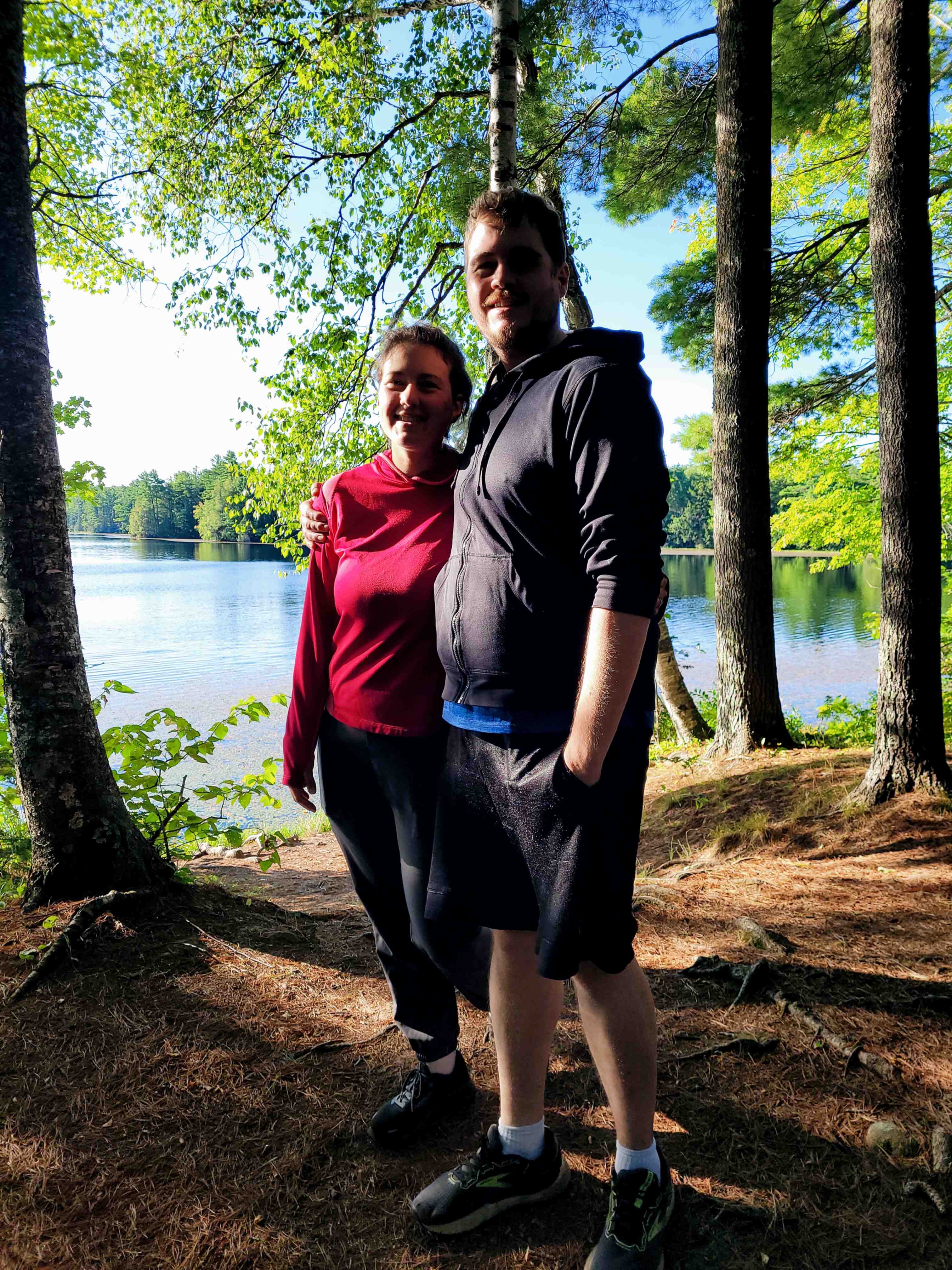 Another view of Perch Lake: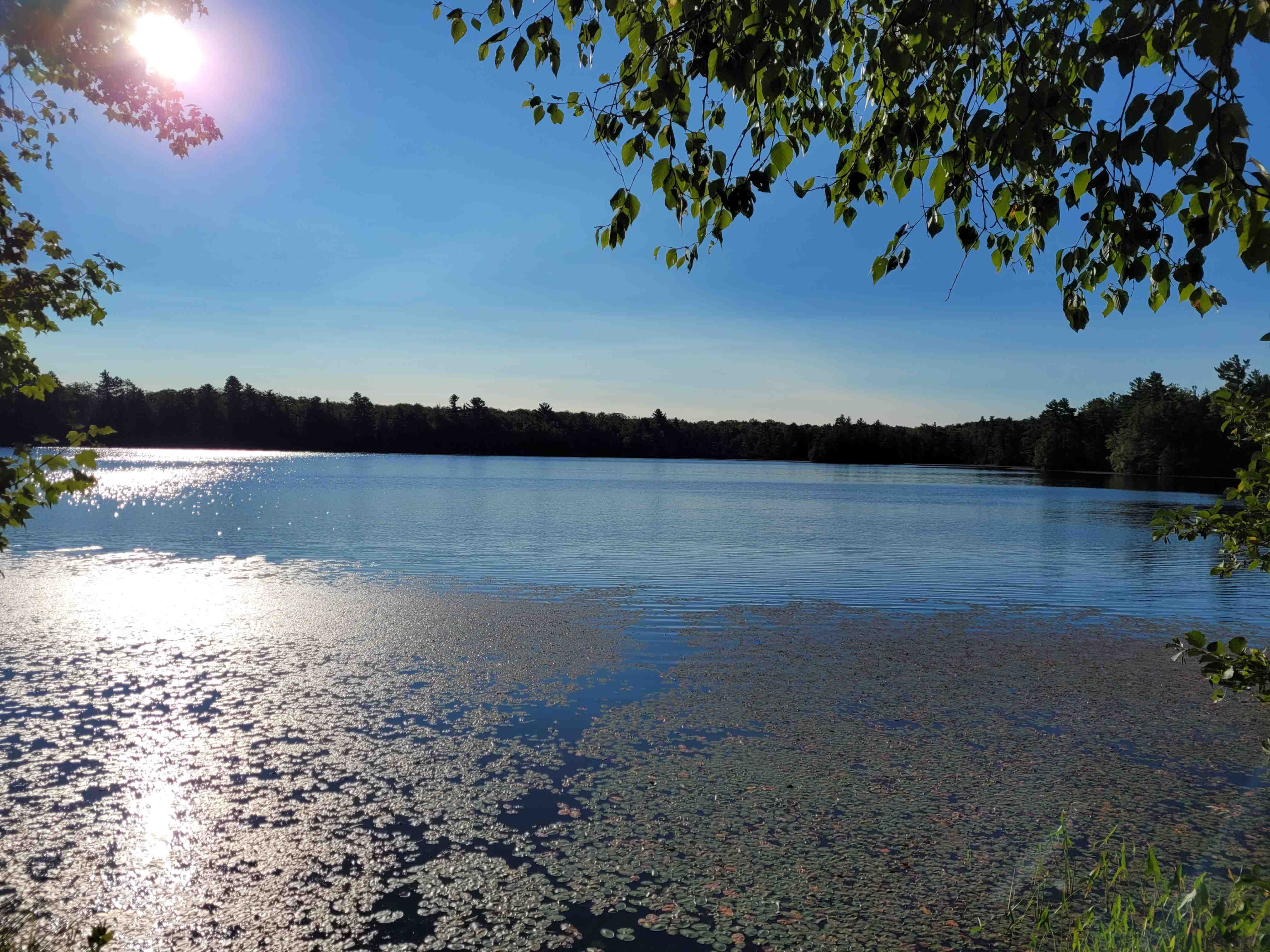 On our way to Perch Lake the van was acting like the electrical system was failing, which was unsettling. At the campground we discussed options for how to deal with this. Audrey and Paul had decided that they'd prefer not to camp another night, so the next day we dropped them off at their car - luckily the van started and kept running! - and then they followed us to Ashland where we left the van at the dealership (on a Sunday when it was closed) and booked a night at the River Rock Inn. While in Ashland the four of us had breakfast, and then explored the riverwalk and the marina before Audrey and Paul set off for home back in Duluth.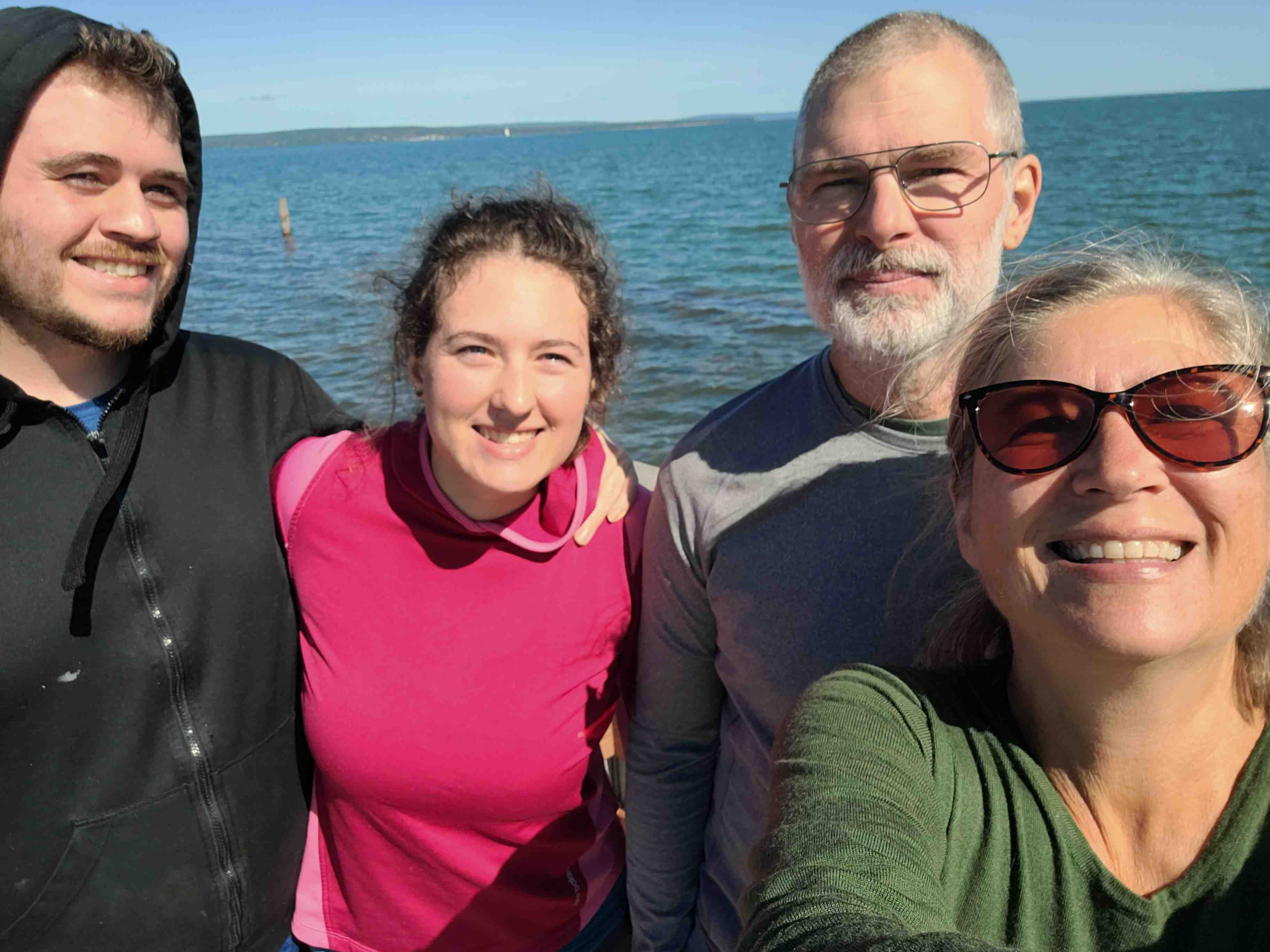 Kristin and I have been in Ashland before, and have stayed at the River Rock Inn, which is a very clean and pleasant little place to stay with a spectacular view of Lake Superior. We really enjoy them both!
On Monday morning we learned that there was a 2-week backlog at the dealership, and were recommended to take the car to Bulldog Auto Repair which was 5 miles out of town. A call to Bulldog and we were advised that it might be the end of the day before they could look at the van. We decided to book another night - hey, we like Ashland! - in the event this would take another day.
When I spoke to the hotel owner, Scott, and explained our situation, he offered to take me to the dealership, follow me to Bulldog, bring me back to Ashland, and then take me back there after the van was fixed! We were and are extremely grateful for Scott's generosity and helpfulness, so here's a big shoutout and Thank You to Scott and the River Rock Inn & Bait Shop!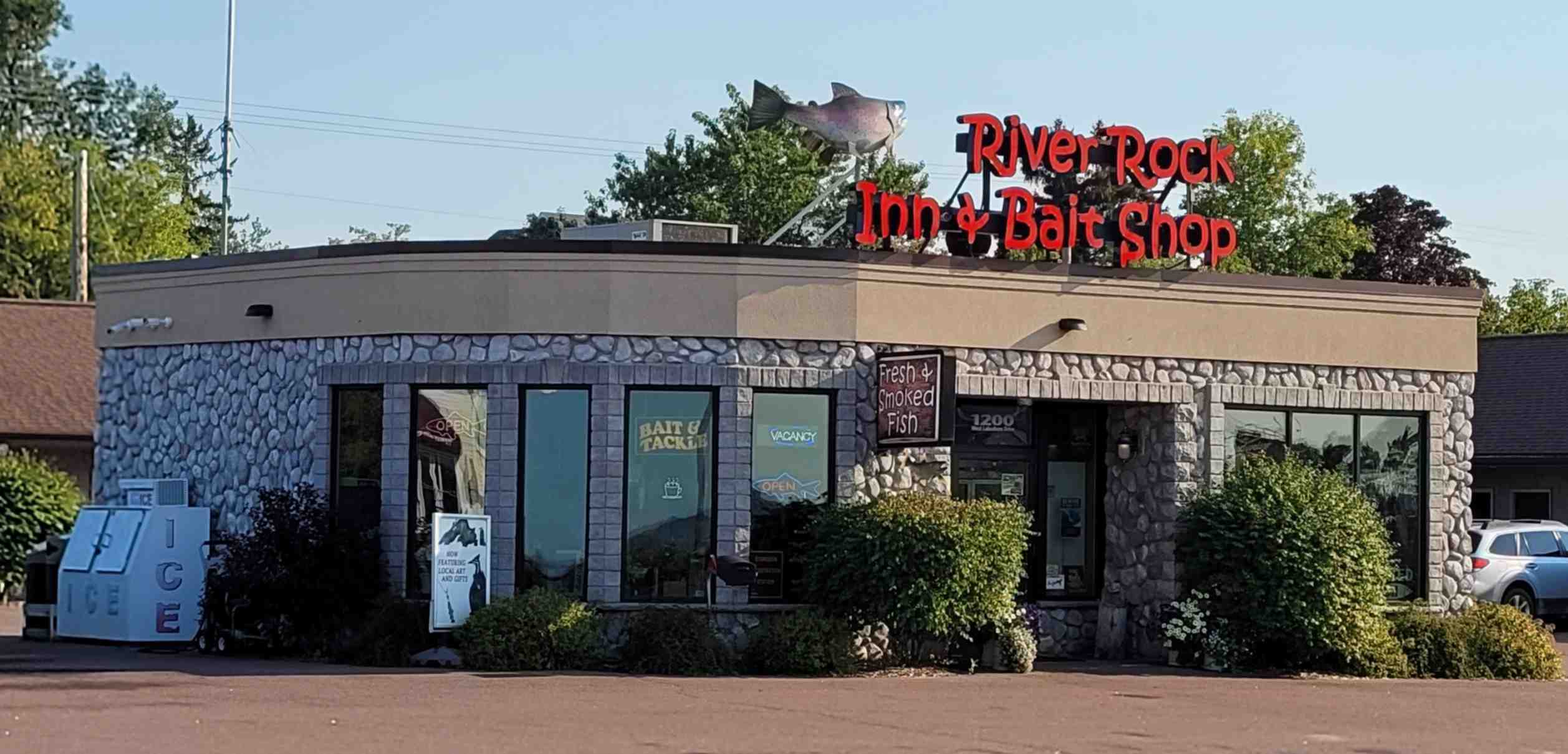 We took advantage of the extra time in Ashland to have some good Pizza at The Alley, visit the Ashland Food Co-op, and just wander around and explore. Fun!