Geode State Park

Wed 09 August 2023

A couple weeks ago we took a weekend camping trip to Geode State Park, 10 miles west of Burlington, Iowa. The campground pictures looked appealing, and the park was undergoing some road repairs that closed the road to the beach, which made us think it would not be as busy. We found the campground to have plenty of room, and though most of the tent sites weren't as level as we would have liked we eventually found a suitable spot. The following is a picture-story of our experience.

Here are some views of our campsite on Friday. It was very cozy, and far enough away from the campers to be peaceful and quiet.

This was our sunset sky the first evening.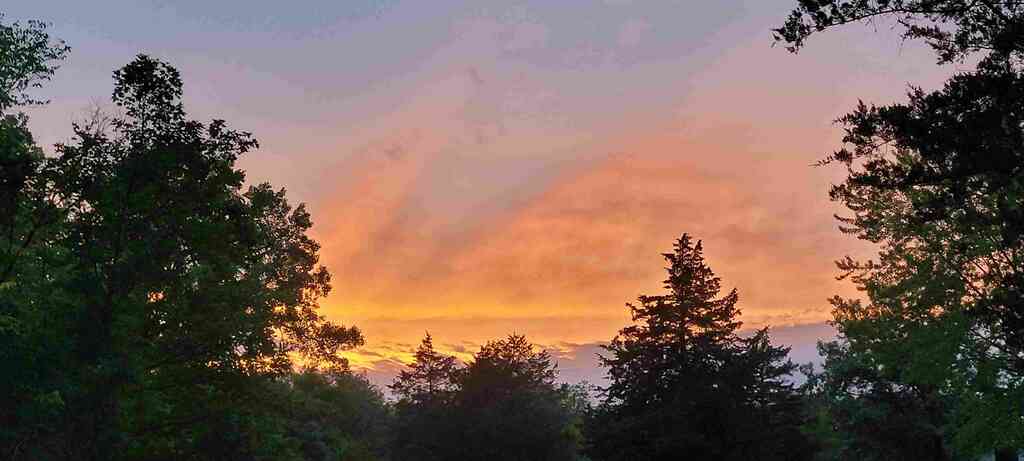 The next day was quite hazy from the Canadian wildfires. This kept the temperature down a bit. We mostly lazed around and read and relaxed, which was very pleasant. We did take some time to walk down to the lake. We let Archie splash around in the water, and with some coaxing he began to swim around and have some fun with that. After that we hiked the lake trail and eventually made our way back to the road to circle back around to the campsite.
In the evening we played cards - Sixty Six! - and were treated to a very smoke-hazed sunset. This picture doesn't do the scene justice, but it was quite spectacular.
On Sunday we decided to check out Burlington, on the recommendation of one of Kristin's co-workers. We found our way down to the riverfront and wandered around a bit. The bridge across to Gulfport, Illinois is pretty striking, and I would have liked to get a better picture but it was still quite hazy from the smoke, making visibility rather poor.
After playing a bit in some fountains, we wandered down to the Burlington Welcome Center to find bathrooms, and were delighted by the welcome center itself. The gal running the place welcomed us in with the dog to browse and chat, then offered to take our picture in front of this cool mural. I'd recommend a visit here to anyone visiting Burlington.
As we drove around looking at things downtown, we stumbled on a sign for Snake Alley at the bottom of the street. By bottom, I mean BOTTOM, as the alley winds - dare I say, in a snakelike manner?! - down a steep hillside. It looked like we could drive it, so we worked our way a couple blocks uphill and found the TOP side. Then, down we went! Here's what it looks like looking down from its upper entrance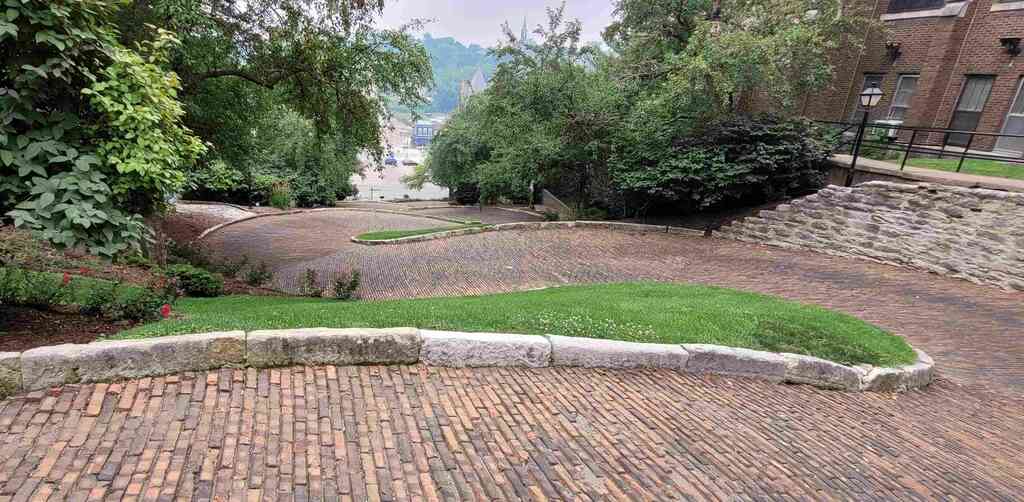 and then from the bottom looking up!
Finally, I wanted to drive the bridge across the river, so we did, and ended up in Gulfport on the Illinois side. There's not much to be said of Gulfport, as it's a rather decrepit place. We found it funny to find the city jail (though I'm not sure if that's just a local joke), as well as a relic of Gulfport's former glory!