Clear Creek Trail

Sat 16 September 2023

I decided to take a bike ride this morning. I'd been wanting to ride the trail out toward Tiffin, as I'd seen it from overhead on the interstate interchange and it looked interesting. So, after the mid-morning dog walk, I got my bike out of the storage unit, pumped up the tires, and then was on my way into a gorgeous crisp September Saturday. A high light mostly-overcast made the day bright and cheerful with little of the harsh direct blast from the sun. I start out easy, enjoying the cool air moving through my shorts and t-shirt as I fly down the hill past the dog park, then bumpa-bumpa my way across the wooden plank foot bridge crossing the Iowa River.

I follow the bike trail along the river for a quarter mile, then turn onto the Clear Creek Trail. I follow that through the underpass under Highway 6 and then to the concrete culvert underpass under the railroad track. A couple hundred more yards I turn into the Mormon Handcart Park, getting off the bike trail, and follow the narrow paved park trail. Though I've been here before and have read all the signs describing the Mormons passing through here some 170 years ago, I stop again today to re-read them; it's interesting history.

Once through the park I turn back onto the bike trail. It is wide and paved and winds cheerfully uphill and downhill and through the woods, away from buildings and roads, and though city sounds can be heard, in all it is very peaceful and relaxing. I have in my mind that I will make this a recreational ride, to soak up the peace and serenity of the morning. By recreational I mean not pushing hard, not riding as an exercise in exercise - but to just relax and take in the scenery and fresh air. For some reason - probably because it's September - I have the tune and some of the lyrics of Rod Stewart's Maggie May running through my head:
"It's late September and I really should be back at school..."

"You laughed at all of my jokes, my love you didn't need to coax, oh Maggie I couldn't have tried any more."
Yeah, I just looked up the lyrics, and my memory of that second line isn't right - but I'm happy enough with my rendition as it is.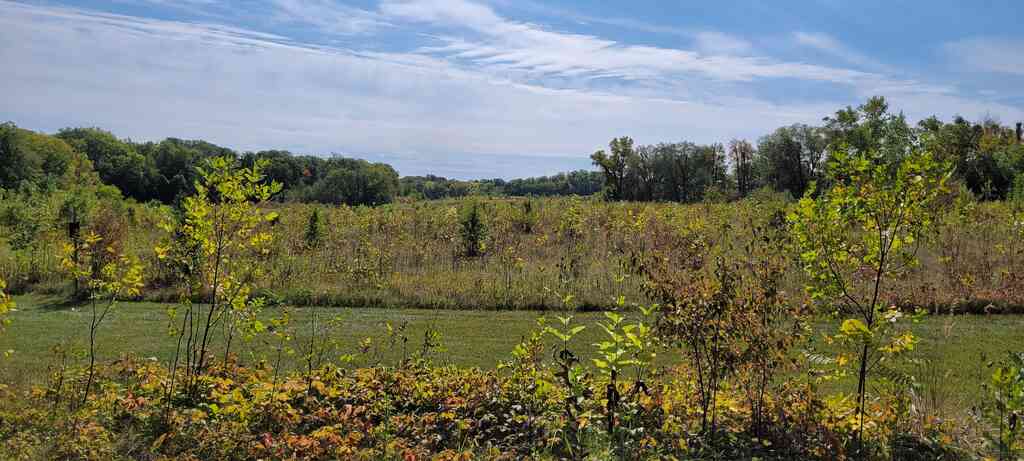 I stop a couple times to snap some pictures and look around. A spectacular day! It is one of the remaining late summer days before leaves begin turning gold, red, brown, and fall from the trees. I see two black squirrels at spots about a mile apart and stop each time to try to get a picture, but they are, well, too squirrely and I get nothing!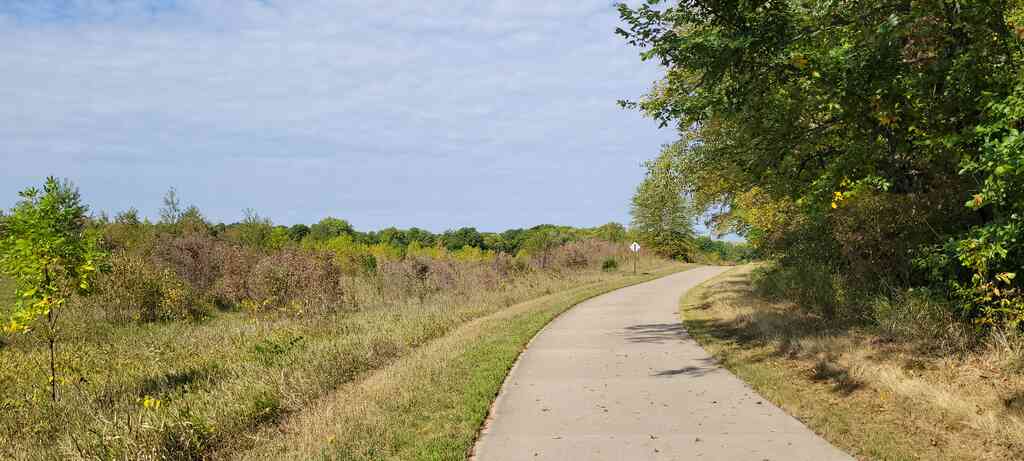 The trail from Mormon Handcart Park winds its way west-northwest, staying south of Highway 6 in Coralville, passing behind several businesses that, until today, I'd only ever seen from 6 - Five Guys, IHOP, a mattress store, and others. Then it passes in quick succession under two interstate highways through the newly opened interstate interchange (say that five times fast! or, typing it without error); heading toward Tiffin it passes northward under I-80 and then a quarter mile further it passes westward under I-380. These underpasses are so new that they've not yet been adorned with graffiti and trash - the concrete is clean and white and still smells like fresh cement. I like going through these big highway underpasses, with all the concrete columns and beams, the bridge abutments; it's a bit otherwordly under there, dank and sort of cavelike, and I always have a little morbid thought that I need to be quick in case the bridge should collapse.
Continuing west from the underpasses I come quickly into Tiffin. I had intended to turn around as soon as I got to the edge of town, but looking at the map on my phone I see it's just a couple more miles to Half Moon Avenue, where there's a dog kennel we've used for Archie, so I decide to ride that far before turning around. I pass by a city park, a dog park, south of the Fareway grocery, past a disc golf course and some prairie areas, and finally arrive at my turnaround point. As it turns out, that is the end of the bike trail. There is a small gravel parking lot and a picnic table. A presumptive dad and his two kids, one of whom is wearing a full-face Halloween mask, are just getting on their bikes to head east. An early-30's-ish couple is sitting at the table, bikes parked. I want to say hello and chat but their faces are buried in their phones and they're ignoring each other and everything else. I see no other reason to linger, so I just turn around and start my ride back.
Riding back under the interstate and into Coralville I pass a family with three young boys, their five bikes parked at the edge of the trail, all three boys standing at the side of the trail peeing. I remember these kinds of days with my kids when they were little. I smile and I'm glad not to be doing that anymore, yet the the heartstrings are tugged anyway.
Coming back from Tiffin, as the trail follows Clear Creek downstream, there is a very mild downhill grade. I hadn't really noticed the uphill-ness of it as I was heading to Tiffin, but after turning around, it is definitely easier to make good speed. Despite my intention that this be a recreational ride, I can't really resist pushing to go faster, because I can, and the rushing air feels so good, and it feels good to push to my anaerobic limit, my muscles burning with lactic acid. In my head: "Push... push... push push push!"... then Rod singing out "all I needed was a friend to lend a guiding hand, but you turned into a lover, and mother what a lover, you wore me out."
It's a good ride.